Convertible Tops for Less is a premier distributor of convertible tops, windows, headliners, cables and accessories for the world's best-selling vehicles, all at value pricing.   Our tops and windows are completely assembled, ready to install and made of the highest quality original materials.   Most of our tops and windows are in stock and available for same day shipment.  We sell original style tops, made with factory original color options and materials.  While many of our customers have enjoyed installing their new tops at home , we strongly recommend the use of a professional convertible top installer for our products.  To get started, select the make, model and then year of your vehicle on the left, to choose from the options available for your car.
All of our vinyl & cloth top seams are double-stitched and heat sealed on the outside, while cloth tops receive an additional heat sealed process of hot tape on the inside. Both of these processes ensure a waterproof seal. Materials are cut using Gerber computerized equipment, then sewn with a premium polyester thread to ensure durability.  Tops and windows are finished with bindings, matching the texture and color of the top material.  Only the best Haartz® premium grade, pre-shrunk topping materials are used and are UV treated, mold and mildew resistant.   All of our premium tops and windows include a six-year warranty against material defects and manufacturer workmanship.  The BV economy line of tops, comes with a 3 year warranty.  Glass windows are made of high quality DOT rated tempered glass, which exceeds all national and international requirements.  The topping material is cut using Gerber computerized cutting equipment.
All  of our window systems have been designed to incorporate two styles of finish
SGR Maxbond – Provides a clean smooth visual edge window system with no profile.
EWP – Consists of a "J" shaped profile with an appearance similar to that of other OE style profiles which offers edge-wear protection for the topping.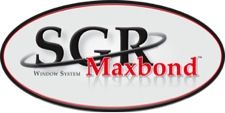 The SGR Maxbond process incorporates a composite ring mechanically attached to the topping.  The assembly of the topping and ring are then adhered to the glass using a high strength durable bonding agent compatible with the ring and glass, creating an extremely strong bond that eliminates separation and leaking with the added benefit of a factory-type finish.  Our finish is both smooth and flat to the glass as compared to other systems that have a folded fabric edge which creates a bulky unfinished appearance.

This system comes with a LIFETIME WARRANTY – if the window ever leaks or the bond of the topping to the glass fails, we will replace the top for the original purchaser free of charge.

This system produces an appearance superior to that of other brands. See for yourself just how clean and sophisticated our system is. Our SGR Maxbond window system is changing the standard within the industry.